LAST NIGHT OF THE PROMS IN DE DORPSKERK OP 2 NOVEMBER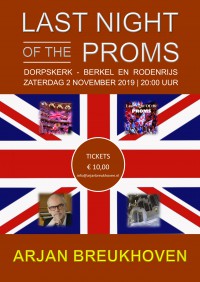 The Last Night of the Proms ... de bijzondere afsluiting van de jaarlijkse proms concertserie in de Royal Albert Hall in Londen. Het publiek uitgedost met vrolijke kleding, toeters, vlaggetjes en ballonnen. Prachtige muziek. Koor en orkest van de BBC.
Of het zo gek wordt in de Dorpskerk met toeters en vlaggetjes ... maar op 2 november wordt de concertserie 2019 afgesloten met een concert met deze titel "Last Night of the Proms".
Natuurlijk komen de stukken aan bod waardoor de Londense variant beroemd om is: Elgars Pomp and Circumstance, Jerusalem, de variaties op zeemansliedjes van Henri Wood, Ault Lang Syne en vele andere prachtige werken.
Reserveer nu alvast uw kaarten. KLIK HIER
---
Notice
: Undefined index: parameters in
D:\appdata\IIS\vhosts\arjanbreukhoven.nl\httpdocs\modules\fe_winkelwagentje.php
on line
402
Notice
: Undefined index: parameters in
D:\appdata\IIS\vhosts\arjanbreukhoven.nl\httpdocs\modules\fe_winkelwagentje.php
on line
403
Notice
: Undefined index: verzendkosten in
D:\appdata\IIS\vhosts\arjanbreukhoven.nl\httpdocs\modules\fe_winkelwagentje.php
on line
404
Notice
: Undefined index: orderkorting in
D:\appdata\IIS\vhosts\arjanbreukhoven.nl\httpdocs\modules\fe_winkelwagentje.php
on line
404
Notice
: Undefined index: verzendkosten in
D:\appdata\IIS\vhosts\arjanbreukhoven.nl\httpdocs\modules\fe_winkelwagentje.php
on line
405
Notice
: Undefined index: orderkorting in
D:\appdata\IIS\vhosts\arjanbreukhoven.nl\httpdocs\modules\fe_winkelwagentje.php
on line
406
Notice
: Undefined index: verzendkosten in
D:\appdata\IIS\vhosts\arjanbreukhoven.nl\httpdocs\modules\fe_winkelwagentje.php
on line
408
Notice
: Undefined index: parameters in
D:\appdata\IIS\vhosts\arjanbreukhoven.nl\httpdocs\modules\fe_agendas.php
on line
127
Volgende concert:
26 oktober 2019
Ridderkerk
Concert van het Christelijk Slikkerveers Mannenkoor olv. Willem Nijhof | Hugo van der Meij, vleugel | Arjan Breukhoven, orgel
---
---

Notice: Undefined index: parameters in D:\appdata\IIS\vhosts\arjanbreukhoven.nl\httpdocs\modules\fe_blokken.php on line 91

Notice: Undefined index: parameters in D:\appdata\IIS\vhosts\arjanbreukhoven.nl\httpdocs\modules\fe_blokken.php on line 91

Notice: Undefined index: parameters in D:\appdata\IIS\vhosts\arjanbreukhoven.nl\httpdocs\modules\fe_blokken.php on line 91

Notice: Undefined index: parameters in D:\appdata\IIS\vhosts\arjanbreukhoven.nl\httpdocs\modules\fe_blokken.php on line 91

Notice: Undefined index: parameters in D:\appdata\IIS\vhosts\arjanbreukhoven.nl\httpdocs\modules\fe_blokken.php on line 91

Notice: Undefined index: parameters in D:\appdata\IIS\vhosts\arjanbreukhoven.nl\httpdocs\modules\fe_blokken.php on line 91

Notice: Undefined index: parameters in D:\appdata\IIS\vhosts\arjanbreukhoven.nl\httpdocs\modules\fe_blokken.php on line 91

Notice: Undefined index: parameters in D:\appdata\IIS\vhosts\arjanbreukhoven.nl\httpdocs\modules\fe_blokken.php on line 91

Notice: Undefined index: parameters in D:\appdata\IIS\vhosts\arjanbreukhoven.nl\httpdocs\modules\fe_blokken.php on line 91

Notice: Undefined index: parameters in D:\appdata\IIS\vhosts\arjanbreukhoven.nl\httpdocs\modules\fe_blokken.php on line 91

Notice: Undefined index: parameters in D:\appdata\IIS\vhosts\arjanbreukhoven.nl\httpdocs\modules\fe_blokken.php on line 91

Notice: Undefined index: parameters in D:\appdata\IIS\vhosts\arjanbreukhoven.nl\httpdocs\modules\fe_blokken.php on line 91

---